**Notice: We are out of room!
We are holding off production of all Torch River Manufacturing products
until we move to our new location in Summer 2012**
The "Tow Buddy"
"The best built car dolly on the market!"
Coming Summer 2012!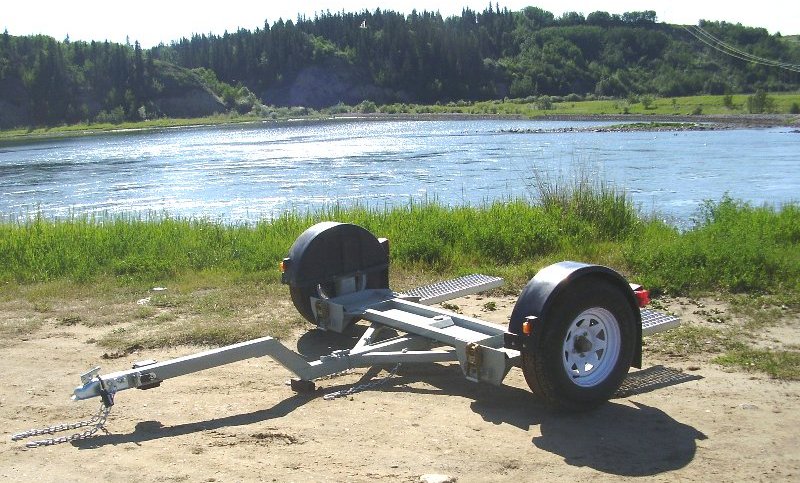 At first glance The Tow Buddy may look similar to other car tow dollies on the market. But don?t be fooled!
With no expense spared, no corners cut, we feel that The Tow Buddy is the best designed, best built car dolly on the market, period. Compare to our competition and you will agree. No flimsy gauge metal here! Most of the construction consists of 1/8? to ?? mild steel material. Heavy duty 3/16? and ?? steel plate reinforcement gussets. Whether you are pulling your personal vehicle behind your RV, or you are a rental company looking for a rugged, durable, well built dolly to add to your fleet, we are sure you will find that The Tow Buddy is exactly what you have been looking for.
The Tow Buddy features DOT approved lighting, 2? coupler, 14? wheels, dual safety chains, electric brakes with break-a-way kit, all standard! All units are sand blasted and coated with Endura paint for years of trouble free finish. Custom colors are available upon request.
Your Tow Buddy comes completely assembled, ready to tow.
Hook on and go!
The Tow Buddy is Transport Canada Certified!
All fabrication and welding performed by Journeyman Welders!
| | | |
| --- | --- | --- |
| If you are going across the city, across the province or across Canada, The Tow Buddy will get you there, every time, worryfree! | | The Tow Buddy's tilt and swivel body allow for easy loading and towing! 2 adjustable tire ratchets adjust for various vehicle widths. |